Ever thought about streaming media (audio/video) over the internet so that your friends can listen to your favorite music playlists? Well, few months before I talked about streaming audio and video over the LAN/Intranet but today I am going to discuss about setting up a Radio Station so that any one can stream audio over the internet. (You can use this technique for streaming videos or your webcam outputs as well)

Basic Requirements
1.) Window Media Encoder 9 – Get it from here.
2.) Music Source – You can use your CD player output or simply few audio files stored on your computer. Music source can be generated by many other means as well like MP3 player or other similar audio devices.
3.) Selected Port Forwarding by Router – This is most important. Not many of us know how to configure Router to forward the selected port. But don't worry, I'll provide you the detailed guide to this problem. First, you should know about your Router manufacturer name. After that, visit this page for step-by-step guides on how to setup port forwarding. (Scroll down to that page and you will see list of all possible routers. Select the name of your router and it will take you to the next page. Find the "Default Guide" link on that new page and click on it to get the detailed information.)
Initially, even I was not aware of how to forward ports but thanks to Madhur who helped me in doing this. Later on, I found the above mentioned site for learning to forward ports on all types of Routers.
Now when you are done with all basic requirements, let's move to actually configuring our system so that we can able to successfully set up our own radio station.
Configurations
1.) Choose any Port number of your choice and program your router to forward your selected port to your main computer. I chose 2300 at my port number.
2.) Open Windows Media Encoder
3.) Select "Broadcast a live event".
4.) Uncheck the "Video" checkbox and enable "Audio" checkbox. Now from the drop down list choose your Sound Card and click on "Next".
5.) Select "Pull from the encoder".
6.) Enter the Port Number you selected before. In my case its 2300 and I have programmed my router to forward the same port number. (Don't forget this. It's very important)
7.) Now comes another important part- "How you want to encode your audio?"
Let's understand first what does it actually mean. The higher the bit rate, the better will be the quality of the streaming audio. But there is always a certain limit. Suppose you have a Broadband connection of 256 Kbps and you choose 135 Kbps as your desired Bit Rate. If you get 2 listeners who connect at the same time, they will occupy 270kb and your bandwidth maximum limit gets exceeded. You certainly don't want to do that. Right?
So, its better you choose "Multiple bit rates audio (CBR)" that gives you option at the time of streaming, to select from multiple bit rates (9, 11, 13, 15 and so on) depending upon the users connected or willing to connect to your radio station.

8.) DO NOT select "Archive". Leave it as it is and click on "Next".
9.) Enter a Title, Author and other information for your Radio Station.
10.) Finally, click "Finish".
11.) Now if you are using a CD player as an audio source, plug the output of CD player to AUX input of the streaming server computer (the BLUE jack) and start playing your music in the player.
OR, if you want the audio files from your server computer to be streamed then carry on with the following steps:-
In the Media Encoder select View -> Source Panel.
A small window of "Sources" should appear inside it. Click the down arrow and select "Properties…"
Under "Source from:" option select "File", and then browse to the actual location of your audio file.
Under "At end:" option select from the drop down list "Roll over to next source".
Add another source and do the same. You can add as many as you want. Just don't forget to choose the correct "At end:" option.
Finally, click on "Apply"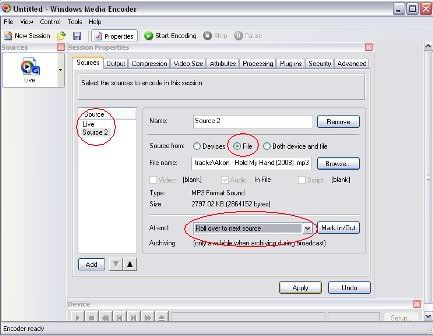 12.) Click the "Start Encoding" button.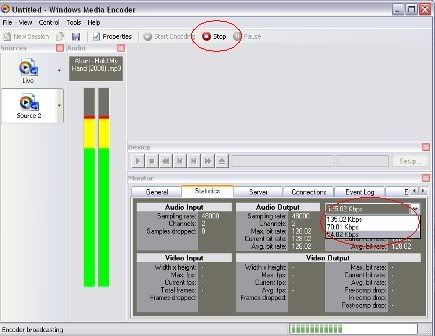 Your computer will now be acting as a server of streaming Radio Station.
How to Listen to your Radio Station?
Go to http://www.whatismyip.com and you will get your External IP address from there.
Now, ask you friend who want to connect to your Radio station to do the following:-
Example: - Suppose your IP is 192.166.217.134 (this should be the same IP which you get from whatsmyip.com website) and the port number you selected earlier is 2300. So the complete URL should be mms://192.166.217.134:2300/
That's it you are done. Hope you like the tutorial. If you encounter any problem during the whole process just share it with us through comments section and I'll try to solve those as soon as possible.

If you like this article and want to get daily updates, do subscribe to my RSS feed or get daily updates via E-mail
.