Over the months we have learned how to Stream Audio and Video over the LAN/Intranet. But today I am going to tell you how to share and connect PCs across the world then you can do anything you want just by sitting miles away from your own PC.
Few months back we have also learned the same thing through CrossLoop. This time I have come up with yet another free to use application that can totally change the way you browse the Internet.

Recently, I found a free application LogMeIn that is used to share your computer in the most secure way.
The fact that it's free to use for multiple remote PCs makes this remote-access program instantly appealing. The program differs from its competitors in that the application runs in your Web browser. If you're running Firefox, it asks to install a plug-in and then opens an emulator of the remote PC in a new window.
The control window gives you some standard options such as Ctrl-Alt-Del (which kills the connection) and changing the view settings, as well as tabbed access to adjust the connection setting. The 256-bit SSL encryption and dual passwords–one for the program and one for the remote PC's log-in–are welcome protections.
How it works:-
LogMeIn takes just a minute to set up, and its automated setup wizard guides you through a few quick steps.
1.) Sign Up
Enter your email address and choose a password. The automated set up wizard guides you quickly through the process.
2.) Connect
Log into www.logmein.com, click the computer you want to access, and you're in!
3.) Work
Control your PC as if you were sitting in front of it. Send email, run programs, open files.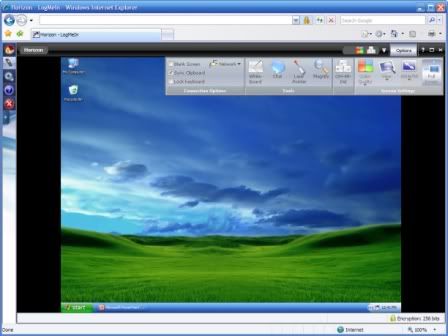 So have you ever tried this application before? What's your take on this? Compare it with CrossLoop.
If you like this article and want to get daily updates, do subscribe to my RSS feed or get daily updates via E-mail
.