In my last post we have learned how to find saved passwords in Firefox. In this article let's focus on how to hack passwords in Internet Explorer.
There is a utility named Asterisk Key that can be used to recover saved passwords in Internet Explorer. So many times we tend to forget our saved passwords in web browsers. The reason is simple. Once the password is saved we did not require to type them every time we sign in for any services.
So, if you tried very hard to remember your password and got fed up, just read through this article and all your problems will get solved easily.

Launch Asterisk Key and also the web pages having saved passwords. If the web page is not open, this utility will not work.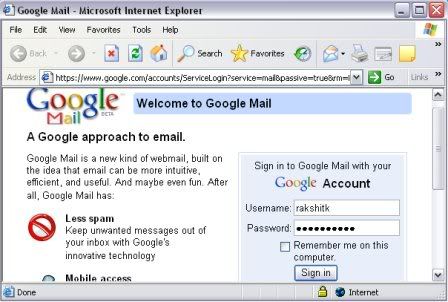 Now click on "Recover" button in Asterisk Key and your saved password will get visible along with all other required information.

That's it. It's very simple. What is your opinion on this great little application?
Download: – Asterisk Key
Tomorrow, I'll be writing on How to reveal passwords hidden under Asterisks (*****).

Stay Tuned!!!
If you like this article and want to get daily updates, do subscribe to my RSS feed or get daily updates via E-mail
.