These days I am really into recovering or hacking passwords from various applications by different methods. In my last post we have learned how to Hack Passwords from Instant Messenger Clients such as Yahoo Messenger, Google Talk etc. This article is not really a hacking technique but I am sure not many of us know it.
Ok, so now get back to our primary objective of the day, how can we find or recover all hidden and saved passwords in Firefox?

Believe me it's very simple. Firefox itself provide this feature. All you need to do is to Open Firefox -> "Tools" -> "Security".

Then click on "Show Passwords" button. A small window will appear giving information regarding Website Name and their respective Username. Click again on "Show Passwords" button and all your saved passwords will appear.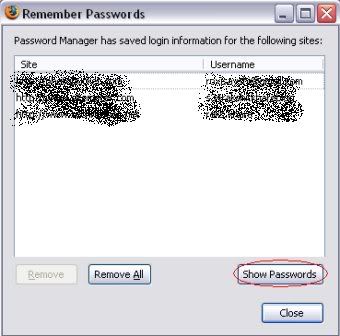 Simple!!!
Isn't it?
Still after so many years of Firefox usage, I didn't know this until yesterday when by chance I saw this feature. Strange right?
I am sure there are many like me. I guess I am not the only one who didn't know this. Please, do reply in the comments section if you also feel the same.
My next post will be on How to find Hidden Passwords in Internet Explorer. Stay Tuned!!!
If you like this article and want to get daily updates, do subscribe to my RSS feed or get daily updates via E-mail
.