We all have been using that Windows Notepad for quite some time now. Ever since we started working on computer, notepad has been the same all way till now. It's fast to load, light on system, great way to manage large text and also the word wrap feature makes the text very easy to read. That's it. Right, huh?
Beyond that it is handicapped to do many advanced and useful things. Here comes the need for other similar notepads that can easily replace the existing one and perform more useful features. So let's start with the review of top 5 Notepad alternatives that are of course FREE TO USE.

1.) NotePad 2 – Notepad 2 is a simple text editor with it you can create text documents. The most popular for Notepad 2 is text files (.txt) and ini files (.ini). With this program you can create Web pages or something else. If you using Windows XP style this program looks very nice. Nevertheless Notepad 2 very easy to use. It works very fastly and without errors.
2.) NoteTab Light – NoteTab Light is a versatile free Notepad replacement and a handy HTML editor. Move quickly around stacks of large files with a simple tabbed interface and format your text to your heart's content. Perform system-wide search and replacements. Strip HTML tags. Build libraries of text macros to speed up your work. Avoid tedious cut-and-paste operations – save text clips automatically in Paste Board files. Make the most of NoteTab's options to suit your workstyle.
3.) AkelPad – An easy to use, small and fast text editor for plain text. Notepad is a wonderful editor, being used to edit files in plain text format, thus it is irreplaceable for designing of Web documentsm, programming, and so on. However, the one comprised in Windows, is very inconvenient due to several limitations. This program claims to be able to fill up these drawbacks. Its installer weighs in about 175 KB, and it eats about 3 MB of RAM while running all of its extensions. The plug-ins range from allowing auto-scroll, to making the toolbar appear permanently. Users can set what kinds of files AkelPad can open, or print, or edit. Tabs are supported, and the text margin is customizable. Plug-ins must be added to the AkelPad plug-in folder, and then they need to be activated individually from within the program.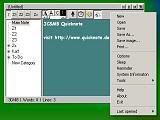 4.) QuickNote – Sometimes you do not need an advanced text processor but a virtual scrapbook to write down an occasional thought, a plan for the day, or an Internet URL. Quicknote is an always-available Notepad tool that lets you type or copy/paste bits of text anytime, demanding no space on your taskbar and as little memory as it can. Whenever you want to write something down that comes to mind, just 'wake up' Quicknote by touching a small line on the top of your screen with the mouse or by pressing shortcut keys. In its resizable window you can jot down your notes and organize them in categories. Beneath the normal text functions, it can convert units, let you directly access frequently run programs, encrypt secret texts, change the system volume by hotkeys, manage windows tasks, and even send notes through a network. It has also a powerful reminder, which can remind you of your notes at certain times, run programs or shutdown automatically your PC.
5.) NotePad++ – Notepad++ is a free (under the GPL license) source code editor which supports several programming languages under Windows environment. It's also a lightweight replacement of Notepad. The supported languages by Notepad++ are: C, C++, Java, C#, XML, HTML, PHP, Javascript, RC file, makefile, nfo, doxygen, ini file, batch file, ASP, VB/VBS, SQL, Objective-C, CSS, Pascal, Perl, Python, Lua, Unix Shell Script, Fortran, NSIS and Flash action script. Notepad++ main features are: Syntax Highlighting and Syntax Folding, User Language Define System, Regular Expression Search, WYSIWYG (If you have a color printer, print your source code in color), Unicode support, Full drag-and-drop supported, Brace and Indent guideline Highlighting, 2 edits and synchronized view of the same document, User Language Define System.
Do you have a favorite Notepad replacement that I haven't mentioned? Let us know about it in the comments. Or, if you have tried any of these before, what's your take on it?
[via CNet Networks]
If you like this article and want to get daily updates, do subscribe to my RSS feed or get daily updates via E-mail
.