If you are looking to purchase a digital camcorder, I am sure you will not like to miss this article on Camcorder reviews. There are so many reviews available over the internet but still if you think as a customer point of view, you will like to go through as many as possible.
So, let's begin with our review of top digital camcorder of 5 companies i.e. JVC, Sony, Canon, Panasonic and Flip.
1) JVC Camcorder- JVC EVERIO GZ-HD3
It is a flash memory based camcorder and also has HDD support. Due to this very reason it is really compact and has got very good looking design. The GZ-HD3 measures 3.25 x 3 x 6.125 (WHD, in inches) and weighs 1.5 pounds including the battery. It lacks the focusing ring and one has to use the small joystick provided on the 2.8 inch LCD for manual focusing. It has got 60GB HDD (memory) with 10x optical zoom. Of course you can hit up to 200x with the digital zoom but then noise will effect the video quality. Still, it has low level of noise in low light video. It uses three 570K pixel CCDs to capture images. As a whole, the camcorder is very easy to operate and the LCD screen help up nicely, even in direct sunlight.
Cost: – around $1000.00
Rating: – 3.5/5
For more detailed review, check out this video.
2) Sony Camcorder- Sony DCR DVD205
Sony's DCR-DVD205 is one of the mid-range and easily affordable Sony Camcorder launched in 2006. It records videos directly onto DVDs and then you can easily share them with others. It can record video at 690K pixels and capture images at 1MP. Armed with 12x optical zoom, 800x digital zoom and 2.7″ bright and large touch-screen, you will get the best quality that you expect out of any Sony products.
Cost: – around $600.00
Rating: – 5/5
For more detailed review, check out this video.
3) Canon Camcorder- Canon XH A1
The XH A1 is a fairly conventional camcorder, yet it has raised bars for many other similar camcorders. A 2.8″ LCD swings down and out from the camera body and can easily be seen even in broad daylight. The fixed 20x lens uses servo focus and zoom controls. The lens, even while set in auto focus, using Canon's new three point "instant focus" feature, can be immediately overridden to manual by simply touching the focus ring on the lens. The camera also has a mic built into the top of the handle. The battery life is almost unbelievable at up to 7 1/2 hours. While recording the video you can also capture as many frames you like that come your way, just pause the camera and hit the photo button, and the photo will instantly be recorded to the SD card.
Cost: – around $3500.00
Rating: – 5/5
For more detailed review, check out this video.
4) Panasonic Camcorder- Panasonic PVGS12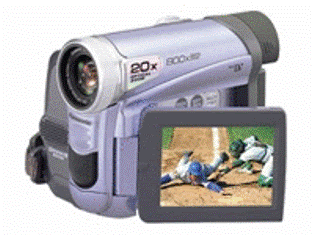 The PVGS12 MiniDV Camcorder is a little, compact, lightweight yet powerful camcorder. It has a 20x optical zoom and 800x digital zoom along with 2.5″ color LCD display. It also features a SD Memory card slot for digital image storage. In fact it is capable of recording to Memory Card, MiniDV tape and MPEG format. Its controls and features are easy to understand and is growing fast among low-priced digital camcorders.
Cost: – around $350.00
Rating: – 3/5
For more detailed review, check out this video.
5) Flip Video Camcorder- Flip Video Ultra Series
The Flip Video Ultra Series' simple, one-touch recording and compact size make it one of the most popular easy to use camcorders available in the market. It's strange to know that this camcorder surpassed other camcorders of companies like Sony, Canon or Panasonic. It doesn't use tapes but records the video directly to its 2GB of internal flash memory that can hold up to 60 minutes of high quality video. With 1.5″ LCD screen on back of the camera, you can still see what's on the screen even in bright daylight. One of the highlights of this Flip Ultra is that it can easily be connected to computer and sharing of videos becomes very simple. You just have to plug the USB to the computer and within minutes you can share all your videos.
Cost: – around $120.00
Rating: – 5/5
For more detailed review, check out this video.
If you like this article and want to get daily updates, do subscribe to my RSS feed or get daily updates via E-mail
.