—————————————————————————————
Updates:-
These are some of sites to find Invisible Yahoo Users suggested by our dear readers.
1.) http://www.myspytool.com By Shashank
2.) http://invisible-scanner.com By Neo
3.) Yahoo invisible detector By Alireza
4.) 4 Invisible By Ayedin
5.) DetectInvisible.com By Guest
Thanks to all for adding more sites to this post.
—————————————————————————————
Few days back, one of my readers, Seeni while going through my article on How to check if someone has blocked you on Google Talk, asked me about the best possible way to find invisible yahoo users.
I have been using yahoo messenger for quite a while now. As a result of that I am aware of various techniques by which we can find invisible users on YM. Of course, many of us may be aware of those but it's my duty to answer what my readers have asked me.
If any of you have a better idea than what I am going to discuss here, please feel free to share it with us. I will appreciate that whole heartedly.

So here goes the best possible ways I could figure out to find invisible yahoo users.
1) Buddy Spy- Buddy Spy is the premier program for Yahoo! Messenger status checking. With Buddy Spy you can now bypass Yahoo! Messenger's Invisible Settings with ease. With its quick and intuitive interface Buddy Spy offers you the ability to see if your friend is truly online or if they are invisible. Not only does Buddy Spy offer you online checking, but it will also tell you whether your friend is in a Chat Room or even if their Web Cam is online!

2) Buddy Check- Are your Yahoo! Messenger friends hiding from you? Not any more! With BuddyCheck you can see if they are online even if they set their status to invisible. Just add your friends to the contact list and their online status will be regularly checked. You will be notified when one of them really signs on of off.
Download the 10 day trial version or purchase BuddyCheck now for only $19.95.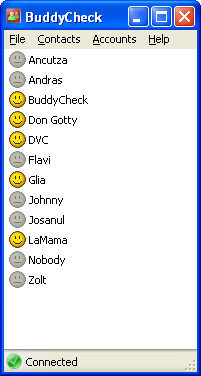 3) Xeeber.com- Xeeber is a professional online service which can help u to recognize the status of all Yahoo users, to see who is online, offline or invisible mode easily.

4) Invisible.ir- Another new web service that works really well. You can also do some other things like check multiple Yahoo users at once and detect a users main Yahoo ID.

What's your take on these above mentioned techniques? Did you try any of these before? As I said earlier, if you are aware of any other method to detect invisible yahoo users, please do share that with us in comments section.
If you like this article and want to get daily updates, do subscribe to my RSS feed or get daily updates via E-mail
.