Update:- If in case you are looking for a tutorial to actually BLOCK any website on your computer that too without using any software, follow this link.
Most network administrators at work, university or school deny access to certain websites, instant messaging or social networks such as facebook, myspace or orkut with a firewall or proxy server. If you are constantly getting a message saying "Can't connect" or something similar, the service you are trying to connect to have probably been blocked by your network administrator.
The same is the case with my college LAN where most of the things are blocked and even many institutional sites are not accessible. Damn it! But as soon as the system is made, next day it's broken. That's the way we suppose to live.
So, it's time to focus on our main topic- how to bypass firewalls, proxy servers and hide IP address.

Software Requirements
1- JAP -> Download and Install.
2- Java Runtime Enviroment(JRE) -> Download and Install.
There is an open source utility called JAP that protects our privacy on the Internet. In process to this it also helps to bypass firewalls and proxy servers.
Instead of connecting directly to a webserver, users take a detour, connecting with encryption through several intermediaries, so-called Mixes. JAP uses a predetermined sequence for the mixes. Such a sequence of linked mixes is called a Mix Cascade. Users can choose between different mix cascades.
Since many users use these intermediaries at the same time, the internet connection of any one single user is hidden among the connections of all the other users. No one, not anyone from outside, not any of the other users, not even the provider of the intermediary service can determine which connection belongs to which user.
Let's learn how to configure it. Just follow the steps:-
1- After installation, open JAP and click on "Config" button.


A "Settings" window will get opened.
2- Click on "Network" and if you are using any proxy to connect to the Internet then enter your proxy details under "Proxy/Firewall" section. Don't forget to choose type of the proxy you are having.

3- Next, choose "Services" under "Anonymity" option.
4- Click on the "Reload" button and after few minutes you'll get a list of services called "Mix Cascades and single Mixes"
It is through these services we will get connected to the Internet, bypass the firewall and surf anonymously. It's important to first understand these different types of services before start using it. There are basically 3 types of services that may be available to you at a given time. First one is the paid one, second is free services and third is the test service.
We will be focusing on Free Services here. Now how to recognize which service is of what type?
5- From the dropdown list above select "Mix cascades without costs".
6- Now the RED stop mark before a service name shows it is "excluded by filter" which means it's a paid service. But a BLUE ball mark before a service name shows it's free to use.
7- Choose any one of the available free services and click on the "Select" button to activate it.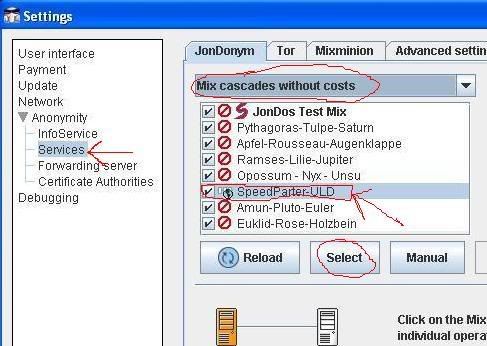 Free Services that I prefer are "Dresden-Dresden" or "SpeedParter-ULD"
8- Click "OK".
That's it. You are all set to connect to the Internet now.
Soon JAP will get connected. Now, let's learn how to use it.
To make web applications ( like Internet Explorer, YM, GTalk etc) work with JAP, use "IP address" 127.0.0.1 and "port number" 4001 under connection settings of your applications.
(If this particular part is not clear, please ask your doubts in comments section of this post)
ALL DONE!!!
No more blocked web sites, no more blocked IMs. Everything is unblocked now that too with certain level of anonymity. Isn't great?
Do share your thoughts on this. It's your comments and feedbacks that matters a lot. They are priceless.
If you like this article and want to get daily updates, do subscribe to my RSS feed or get daily updates via E-mail
.