For all those who don't know what PIDGIN is, here is a brief description:-
Pidgin is an instant messaging program for Windows, Linux, BSD, and other Unixes. It is a multi-protocol Instant Messaging client that allows you to use all of your IM accounts at once. You can talk to your friends using AIM, ICQ, Jabber/XMPP, MSN Messenger, Yahoo!, Google Talk, Bonjour, Gadu-Gadu, IRC, Novell GroupWise Messenger, QQ, Lotus Sametime, SILC, SIMPLE, MySpaceIM, and Zephyr.
Pidgin can log in to multiple accounts on multiple IM networks simultaneously. This means that you can be chatting with friends on AIM, talking to a friend on Yahoo Messenger, and sitting in an IRC channel all at the same time.
Let's now move towards the main topic. How to configure Pidgin to work with Google Talk?
It's pretty easy and simple. Just follow the below mentioned steps. Also, consult the Pidgin setup window Screen Shot for better clarification.

1- Get the latest version of Pidgin and Install it on your computer.
2- Select "Accounts"-> "Manage"-> "Add"
This will open a new window- "Add Account"
3- From the drop down box choose XMPP as the Protocol.
4- In case of Screen name enter your Gmail Id (e.g. – raks.khare).
5- Type gmail.com as the Domain/Server.
6- In Resource Field enter Home.
7- Type your Gmail Password in the Password Field.
8- Choose any Nickname (e.g. – Rakshit) as Local alias.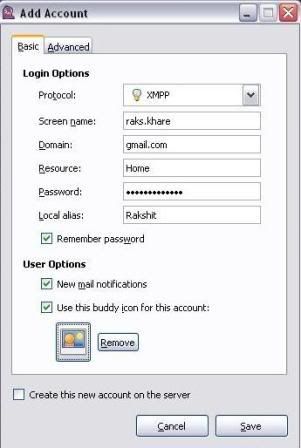 That's it you are almost then.
Now, if you are behind a proxy server that is blocking Pidgin to connect to Internet and to log in your account, just follow the below mentioned steps. I am sure you'll be able to run Pidgin freely like I do.
Click on the "Advanced" tab in Add/Modify Account window and do the following:-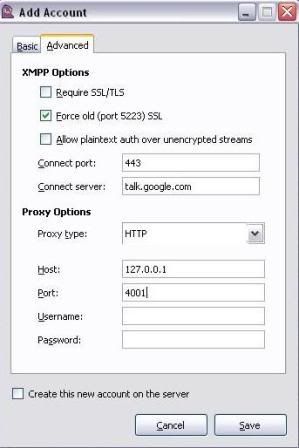 1- Force old (port 5223) SSL: Checked
2- Allow plaintext auth over unencrypted streams: Un-Checked
3- Connect Port: 443
4- Connect Server: talk.google.com
5- Proxy Type: Choose your protocol and enter desired proxy settings. In my case it's HTTP, Host: 127.0.0.1 and Port: 4001. If you don't know about this, select Proxy Type as "Use Global Proxy Settings".
You are done. Now, you can use Pidgin as much as you like.
My next post will put more light on this great little instant messaging program. I will use Pidgin to identify whether anyone has blocked me on Google Talk or not. Strange, right? So far, there is no such feature in Google Talk. But, I say, why use Google Talk if we have other better alternatives?

If you like this article and want to get daily updates, do subscribe to my RSS feed or get daily updates via E-mail
.