Recently, I was tagged by Keshav Khera from TechAlerts, just to find out "How much addicted to blogging are we?"
It's really interesting thing to do, specially if you are relatively new to blogosphere like me. Below are the various tests results which I took. Let's focus on that.
1-> How addicted to Blogging are you?
I took the test and managed to score 81% in it. Considering the amount of work-load I have in my Final Year of B-Tech, I see it as a satisfying score.
81%How Addicted to Blogging Are You?
2-> Blogger Spelling Test
Although, 87% is relatively good score, but I suppose I need to improve that too.
3-> Pro Blogger Test
Man, this quiz was real tough specially for the an amateur blogger like me. Still, I think 70% is not so bad. It will take some time to compete at the highest level.

4-> Cash Reward of Your Blog
Dear-o-dear, Cash Reward of $2100 is too much, buddy. Hmm…. I need to better run and hide some where.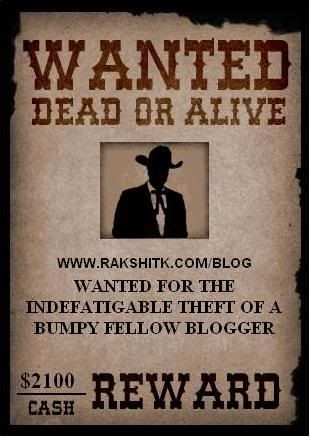 The game was real fun also quite informative. To make the game move on, I am tagging Madhur Kapoor from whoismadhur.
Enjoy Blogging!!!
If you like this article and want to get daily updates, do subscribe to my RSS feed or get daily updates via E-mail
.